About Frog Ventures, LLC
We're a service – and product providing company in the housing market based out of Colorado Springs, CO USA.
With our products – homes and offices – and developments we're mainly focused on the High Rockies of Colorado.
Our other services span the entire globe.
There's one big denominator in everything we do: we want to contribute to a healthier and more balanced world.
We don't just dream about it, we get it done!
The housing market needs more variety. That's why we will sell facility-built (smaller) structures and collaborate on housing developments.
The world needs a more efficient, cleaner, and better way of building, so we work with cutting edge facilities that do just that.
We stand for quality and good design, which is what we strongly advocate for on the Design Committee of ModernMod.
Natural building materials should be readily available, so we're building bridges between the producers and builders to create more efficient supply chains.
We want organizations and businesses within the housing market to benefit from our hard-won knowledge, experience, and international network. That's why we offer our services.
We're making way for today's better builds!
About our President Frieda Bakker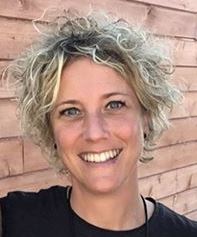 Frog Ventures is owned and managed by Frieda Bakker (41). Frieda is a Dutch citizen with a growing love for the USA, which she now calls her home away from home.
She started her career as an agricultural counselor with a Bachelor's Degree in Advisory and International Communication. She didn't follow the standard career path, but was blessed having different experiences being manager of an eco-center, team-leader in a distribution center, and social media expert for a hostel chain in Amsterdam. However, about 6 years ago she found herself stuck in the clamp many people find themselves in these days: working a job that didn't really suit her, in order to pay for a home that is too big, with too much stuff in it.
The tiny house as a concept entered her life in 2013 and it made sense. She therefore downsized majorly (and found out she's actually a minimalist), started living small on 200 sq.ft., and went to the USA on a regular basis to research the topic as at that time no one else was in the Netherlands. She presented about the topic in podcasts, in international magazines, in interviews of national newspapers, on her own website, and as a speaker at events in both the USA and Europe. It helped spark the Tiny House Movement in The Netherlands and she became an internationally renowned Small-Living expert.
While going back and forth between the USA and Europe she learned that there's a huge need for a change in the Coloradoan housing market, in the use of materials, and in the way houses are being build. With her network and position she realized this provides incredible opportunities for a thriving business while making a difference at the same time. For Frieda there was only one response to that: Frog Ventures was born.

The lack of variety in our current housing market leaves a lot of people stressed and worried. When that happens the oldest part of our brain takes over, the reptile brain. In Dutch it's called "kikkerbrein", which means "frog brain". When "stuck" due to stress in our frog brain, it's very hard to focus on anything else. We can't thrive or grow as human beings. But we should, and our society needs it more than ever! That's why we're here, with Frog Ventures.
And… A frog is comfortable in both water and on land. Metaphorically this is exactly how Frieda Bakker with Frog Ventures works: intuitive (water), and practical (earth), with both head (earth) and heart (water).
WE'RE CURRENTLY WORKING ON...
We're in the middle of the marketing prep and getting the right floorplans for this 40+ land-home package deal development. Expected start of the sales is summer 2019.
Frog Ventures is managing the Sales.